Here's your invitation - rather then dropping your jaw in December when you see photos taken a month earlier in your favorite railfan magazine - sign up for what promises to be another unique photo charter sponsored by Lerro Productions.
Tickets are selling fast yet we still need a few more interested railfans to help cover the costs of the following two events:
The Canadian National Photo Freight on Monday, November 5th. Now is the time to notify Pete that you are interested so you can be put on the list. If there is anyone you know that may be interested, please let them know as well.
Unlike past events at Strasburg that you may have attended, this event will be unique in that this will be the first time two Canadian National steam locomotives will be used. We have also lined a number of "never done before" shots and scenes as well as a number of props and actors which will make this event a one of a kind Strasburg Charter. This includes removing all of the passenger cars in the yard and replacing them with our photo freight cars and a number of older freight cars never used on photo charters. There will also be a night photo session using halogen lighting giving you plenty of time to set up and move around.
Also - Sunday, November 4th, after dark, the day before will be a unique event at the PRR Museum - A Night Photo Session which is nearly sold out. Smoke machines will be on hand, as well as antique equipment and even a few actors to recapture a time long gone by. Again, several thousand watts of halogens will be on site for pictures both inside and outside the museum!
Please let us know as soon as possible if you are interested. Payment guarantees your place in line. Details for the charters and how to sign up can be found in the link below.
http://www.lerroproductions.com/photocharters.html
Contact Pete at
Lerro984@aol.com
Here's a sneak peek in preparation for the big show.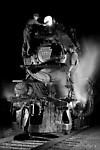 PhotoID: 194128
Photograph © Mitch Goldman
/Mitch