We decided to hit up our local area this past Sunday, not knowing what we might see. Enough of endless dash 9's on the Middle Division, and I didn't feel like driving down there. Yes, it was freezin'-ass cold! One minute out of the truck and we couldn't feel our hands. As the day wore on it got windier and the wind chill had to be below zero.
I got the call at 0630-CP 513 was switching at Sunbury, so we shot over to Riverside on the CP Sunbury Sub to wait. Had time to take care of my drinking problem (caffeine!) and then we caught him switching Merck: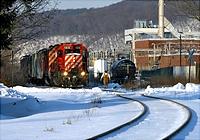 PhotoID: 176229
Photograph © Richard Hart
Got him leaving town in the one well-lit area we could find:
PhotoID: 176228
Photograph © Richard Hart
The show was over so we headed for Norry to see what was going on. Knowing that the Lycoming Valley and North Shore work on Sundays there, we were hoping for some shots. We weren't disappointed: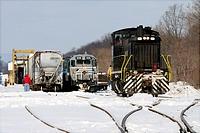 PhotoID: 176231
Photograph © Richard Hart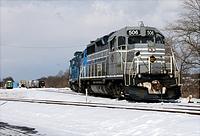 PhotoID: 176234
Photograph © Richard Hart
The weather was starting to go duff, the cold getting worse, and the LV as taking forever to get it together but finally got over to the CP to interchange. (no rp-worthy photos though)
However, local H44 came north. I didn't think the shot I got would work but it did!
I'm pleased with it: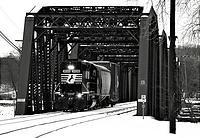 PhotoID: 176250
Photograph © Richard Hart
Then we just about (or thought) we heard 3366 call a signal up above Watsontown. (Get a Motorola!) We knew the chances of catching a Ridge train were possible. So on up the 147 bypass we went, and within 1/2 an hour we got this treat with brand new aluminum PPLX hoppers: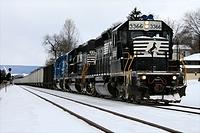 PhotoID: 176246
Photograph © Richard Hart
The chase was on-it's fun doing a Ridge train chase. The idiot factor on the road was low and we had no trouble grabbing him at a few other spots. The trains are long and heavy, the secondary climbs all the way to Turbotville, and they're down on their knees in run 8 all the way. Next good shot was west of Turbotville: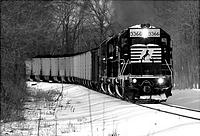 PhotoID: 176241
Photograph © Richard Hart
The last was across the fields just before he enters the PPL plant. 300mm pulled him in pretty good, considering that the train was a speck to the naked eye. I only had to crop off some dead space on the left of the shot: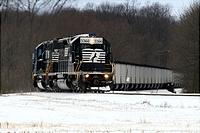 PhotoID: 176238
Photograph © Richard Hart
We got back to Watsontown just in time to catch the Lycoming Valley go north, and that was it.
****
Thanks to Bill Klapp for showing me everything I know about the roads in the area.
Only been living in the area for a couple years.
Kudos to the screeners for accepting my moody shots... I
am
a moody SOB and it shows!
Enjoy!
Rich
http://www.railpictures.net/showphotos.php?userid=4208