Less on the left (the tanks do nothing for the shot) and be prepared for the PEQ since they don't like you standing on the tracks.
It would be better to have a little more area in front of the train.
Also the color is a little too yellow.
If you are going to stand on tracks you had better come up with an excuse and put it on the photo caption, and in the note to screener.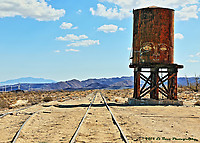 PhotoID: 473510
Photograph © EL ROCO Photography
Usually, this is an automatic PEQ.
Quote:
Originally Posted by
lefflerlad
Less on the right, adjust the color (too saturated / yellow) and they may still ding you for that shadow on the nose.