After seeing everyone posting about "their favorites" on TrainOrders, I was going to come over here and start the thread. But it does not look like that was needed. Anyways, here are my top 10 of 2012.
10-
Normally I wouldn't put a partially backlit shot from a yard in my top 10, but with special access to the middle of the UP J.R. Davis Yard I was able to shoot this rotary rebuild repo as it prepared to leave for Iowa.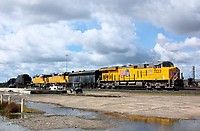 PhotoID: 392755
Photograph © Jake Miille
9-
The reason I like this next shot is there is so much history in it. The West Valley Subdivision is almost stuck in time. The line looks very similar to when Southern Pacific owned it, but now all you can see are a couple California Northern locals working it on weekdays.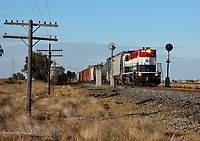 PhotoID: 414722
Photograph © Jake Miille
8-
The Western Pacific Railroad Museum train comes rolling up the old WP mainline north of Sacramento, CA. Interesting train with UP 1996, UP 6936, and WP 2001 and also in a location that can be hard to shoot.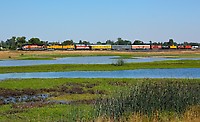 PhotoID: 400556
Photograph © Jake Miille
7-
The Coast Line doesn't see much freight and I'm not down there too often. An unlikely short trip timed perfectly with the oil cans being tied down in SLO allowed me to get this shot. Notice both Madonna and Bishops Peak in the background. Also was nice UP decided to put three clean SD70ACes on the point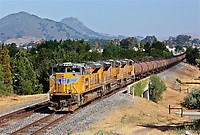 PhotoID: 400917
Photograph © Jake Miille
6-
Here's a shot I envisioned for a long time just needed the right light, a train, and my new 10-22mm.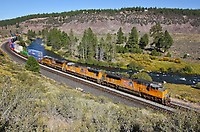 PhotoID: 407921
Photograph © Jake Miille
5-
The Union Pacific KOAMN along the shores of the San Pablo Bay. I finally went west of Davis to shoot and came up with some decent stuff.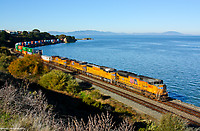 PhotoID: 415979
Photograph © Jake Miille
4-
Some of you may know this as Steinheimer's Curve but I know it as the Mike Haire Secret Spot. After accomplishing a short but difficult climb, I was in position to shoot 844 as it rolled past the Bear River Valley near Emigrant Gap.
PhotoID: 410425
Photograph © Jake Miille
3-
It's a strange shot and not one I attended to get. UP 1983 leading the Family Days train alongside I-80 in Roseville.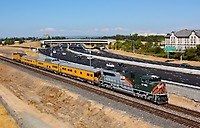 PhotoID: 406061
Photograph © Jake Miille
2-
My first shot of a train at the world famous Tehachapi Loop. Some morning fog was just burning off giving this shot a unique look.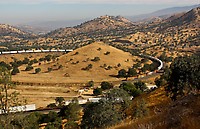 PhotoID: 404060
Photograph © Jake Miille
1-
Union Pacific 844 winding through the curves at Andover and posing in front of the beautiful Sierra Nevada Mountains.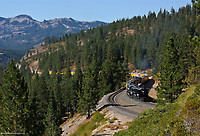 PhotoID: 410393
Photograph © Jake Miille
2012 gave me some decent results. I really wished I had gotten out more to shoot. Hopefully 2013 will bring more trains in front of my lens.