Saw this accepted on RP today: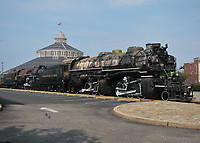 PhotoID: 480525
Photograph © Ronnie Schnepf
Noting the strict standards for images being level on RP, I got to wondering...
What can be done to save the Museum from eventually falling over? it would appear that the foundation has shifted, perhaps an after effect from the original snow storm that caused the roof collapse in 2003. That water had to go somewhere.
Or, did this one slip through? Nah...
Here's wishing the best in realigning this historic building in the near future!
/Mitch