At 29 July i went to Elkarakat village about 20 Km from Kafr el sheikh city where i live to visit my cousin as i didnot saw him from about 2 years as he is working out of Egypt and he is in avacation.The line of Kafr el sheikh- El mansoura passing there and about 20-30metres from his home.I decided to make asmall railfan trip too as im there.waked up at 10:00am,had my breafast,bought batteries and went to there.I were there at 12:45pm and that time there werenot trains but i saw many passengers on the station and they were looking to the direction of KFS city so i knew that there is alate local and i was really late about 20min.I went up the new bridge that was built with the new station and caught ageneral view for the train while stopping in the station.
and the second shot for the same train after moving out of station to Sherbeen station as it will be switched there and be back with local #496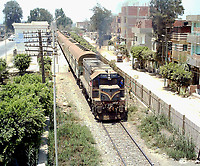 PhotoID: 195621
Photograph © mohamed
after moving of train i waited on the bridge for the express 876 from Sherbeen to KFS central station then to Tanta central station as it will meet the first train that i just caught in Ebshan station.After about 5min i heared the sound of the express and the great horn from the end of the track i prepaired for the shot early as the train will pass under the bridge with aspeed of more than 100Km per hour.
after passing of the express i went to my cousin and stayed about one hour and ahalf there then i told him that i will go to the track to catch the local 496 in its way back to KFS city.i went to the bridge area again and tried to gather between the train and bridge in one shot and i did my best for it and i get anice smile from the engineer as he saw me when he was on his way to Sherbeen station.
after the train passed i went again to my cousin and we had our lunch.after lunch i decided to go and make asmall walking around the station but first i caught local # 498 on its way to KFS city.
I went to the station and bought ice cream as weather was hot.after staying about one hour on the platform of the station enjoying ice cream and talking with my cousin about work i decided to try aglint shot for local 497 that heading to Shebeen station.I didnot turned well as its my second time trying aglint shot but i like seeing it from time to another
http://img401.imageshack.us/img401/939/imag0010sa7.jpg
after that shot i went again to the station and waited the express #500 but i saw it late so i couldnot find agood place quickly to catch it so i stayed on the platform of the station as i was passing with aspeed also more than 100Km per hour.
http://img187.imageshack.us/img187/3859/imag0011io3.jpg
light become to disapear and the day is finishing so i went with my cousin again to home for resting alittle and when night came i went to the station and waited local # 502 to KFS city and while i were waiting it express from Alexandria to shrebeen station passed to meet my train in Ebshan station and i were in KFS city at about 10:15pm.
It was really agreat day and i hope that it come again and again with many trains shots.I hope that you all enjoyed my trip report and take care.