Don't know why, but I'm in the mood to write a short trip report. It's probably because there are better things I should be doing.
Due to a complicated set of circumstances, for the first week of college, I had my car down with me. I decided that in order to get a free ride back to college, I would head home for Labor Day Weekend. Of course, realizing this would be one of my last times to railfan for quite a while, I decided to take the long way home, up IL-47. IL-47, while it doesn't follow a railroad the whole way like US 45, intersects some more interesting railfan locations along the way. My first encounter was at Gibson City, where much to my surprise, the Bloomer was switching the rural grain unloading facility along IL-47 again. I was surprised because it was a Saturday, and the Bloomer struck me as more of a weekday railroad.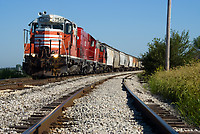 PhotoID: 248830
Photograph © Mike Wnek
The Bloomer will always be special to me because it's one of the few shortlines left that's still not owned by a large shortline company, something I love to see.
As I continued on my journey, I eventually made it to Mazon, which the former ATSF Transcon runs through. The area around Mazon is one of my favorite areas to hang out, for whatever reason. I moved to a spot that I've wanted to shoot for a while, but have always messed the shot up in some form or another. First caught a westbound pig train:
Next, came a an eastbound manifest bound for Corwith: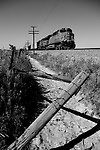 PhotoID: 248834
Photograph © Mike Wnek
This train had a car about 2/3 of the way back with truck hunting, which I decided to call into. Last I heard on the scanner, they were sending out a crew to do a roll-by of the train when it went through Willow Springs since hunting is only apparent at certain speeds. They'd also had managed to narrow down the car number from the reporting mark I had given. Other than that, there wasn't much they could do.
Finally, in the home stretch, I was traveling through my hometown, and then heard the local switcher on the scanner in town. I quickly got over to the tracks, and managed to catch the two engines and two cars pulling out of the industry siding and onto the main.
Even though I've lived in/near this town my whole life, I've never managed to catch the industry switcher before.
All in all, I'd say it was a good trip home.