Short answer: Its a shot of signals.
Long answer: The photo doesn't do a good job of telling the story that you put into the remarks. What makes a searchlight signal unique. What do they look like lit? What line are they on? Do they still see service?
It's a great documentation shot just like the 100+ I took of the semaphores in Indiana. Unfortunately, it was a cloudy day and no trains went past therefore any artistic value went out the window. I hope to return at night or when something is moving to get some "action" shots.
The sky is interesting in your photo but not enough to boost the interest in the signals. Change up the angle to show them lit. Put it in color to show what aspect they show. Can you get a train to play a secondary role in the photo to keep the signals as the focus. Go back at night. Signals play a very important part in railroading and make great subjects if done in a way to show their purpose.
Here are a few of the latest signal-focused shots in the DB for comparison:
PhotoID: 289879
Photograph © Geoff Brozny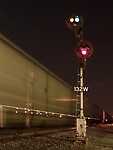 PhotoID: 289672
Photograph © Geoff Brozny
PhotoID: 289376
Photograph © Appalachian Railfan
PhotoID:
Photograph ©