Sunday 1:00 pm, my honey do list is done and I have 90 minutes before I need to shower and change clothes to meet friends for an early Sunday dinner. With scanner on, I head out of old Henderson Nevada and debate if I should make a quick check of downtown or just head to the mainline which is closer. Passing Lake Mead Blvd I spot the two old CN Sweeps lined up to the branch line in perfect light in the Timet yard. I pull of the freeway and after finding two different avenues blocking my way, I finally find the ROW road on the other side of a nearby wash and decide to head down to grab my shot. As I double back, I hear Union Pacific DS-7 give clearance for UP 4701 to depart. UP 4701 replies that they are on their way to Yermo California.
Unable to know where the train is leaving from (Valley, Las Vegas or Arden) I give up on my photo opportunity of the two CN sweeps and head out towards the mainline some 18 miles away, holiday traffic causes slow downs and I debate where to go for the shot. The sun is off to my left giving me two locations near Sloan and a third at Erie station where the engine will be lit. Jumping on to I-15, traffic comes to a stop, I debate about getting on to surface streets and attempting a shot north of Bard but decided this would give me no way to chase the train if I missed the shot. Staying on I-15, I hear the dispatcher direct UP 4701 to hold the mainline at Erie due to a broken rail ahead. Traffic proceeds slowly but I finally am able to get off at Sloan. Now another choice head for the old rail road tunnel, climb the hill and hope I do not miss the train as I climb up the hill or proceed to MP 318.5 and drive up the small hill and catch the train as it take the curve out of Sloan. The first turn is coming up for the tunnel, I take it, stop for a moment throwing the truck into 4 wheel drive and proceed off road. Getting to the tunnel road, I turn off and head part way up the jeep trail before backing the truck up, parking, grabbing my camera and windbreaker and start up the hill. I-15 a few miles to the east of me gives off echoes of diesel trucks (false sounds of an approaching train). I climb till Iím above the tracks and can see the S of the curves. I take a few test shots on manual but for some reason cannot duplicate the scene on auto, ahead I hear then see the train approach as it rounds the curve in front of me I snap off two quick shots as the train passes. Glancing at my watch I have a half hour to get home and start getting ready. So I reverse course and head for home with minutes to spare.
Below is my photo accepted by RP.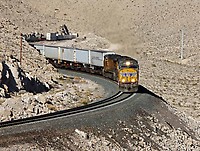 PhotoID: 265052
Photograph © Ken Carr - Vegas Rails