Instead of studying for a test, I figured writing this report was a lot
more fun. Anyway, I decided to visit my parents over Spring Break from
Georgia Tech to help them set up their new house in Stuart, FL (~20 miles
north of West Palm Beach). Of course, being the good railfan that I am, I
did a little (actually a lot) of railfanning on the way down and back and
in the sunshine state. The first part of the report deals with my trip
from Atlanta to Stuart on March 18, 2006.
I left Atlanta at 7 AM heading south on I75. My first stop is in Macon, GA
where I find some parked Georgia Central power at their yard in downtown
Macon. Unfortunately, the way it was coupled didn't lend itself to good
photos, but I'm content with what I found at 8:15 AM since high-hood GE's
are kind of rare.
http://www.prism.gatech.edu/~gtg541b...3959_macon.jpg
I move over to NS's massive Brosnan Yard and see a couple yard jobs
drilling cars. Nothing too exciting here (esp. since I've gotten enough
shots of NS yard jobs in Atlanta to last a lifetime) so I got back on I75
and head to the small town of Byron, GA. I get off I75 here and head for
Fort Valley, GA to shoot the parked Georgia Midland GP30M #4215 at the
depot in downtown.
http://www.prism.gatech.edu/~gtg541b...ort_valley.jpg
I get it, and I see a pair of parked NS EMD's (GP50, GP38-2 high-hood pair)
on the other side of the depot. I get back on I75 at Perry, GA and then
head south to Cordele, GA. Cordele, GA is a neat spot with the NS & CSX
mains to FL crossing each other at grade along with the Heart of Georgia
Shortline. Unfortunately, nothing much cooperated
photographically. However, CSX Q124 went north with a pair of CR GE's.
Here's a shot of the HOG from a previous trip to give you a look at their
neat scheme: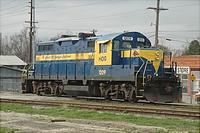 PhotoID: 90258
Photograph © Patrick Phelan
I keep moving south and to Tifton, GA where I get off the interstate and on
US41. US41 parallels the NS main along here, but I didn't see any
trains. Upon arriving at Adel, GA, I find a high-hood NS SD40-2 tied up
for the weekend and parked Georgia-Florida Railnet (GFRR) shortline power
on the west side of town.
http://www.prism.gatech.edu/~gtg541b...r9526_adel.jpg
I keep heading south on I75 and get off south of Valdosta, GA to head for
Clyattville, GA, home of the Valdosta Southern RR. I see one of their
engines switching a paper mill in Clyattville, but nothing could be done
photography wise, so I shoot some dead power near their offices.
http://www.prism.gatech.edu/~gtg541b...lyattville.jpg
By now, its 12 PM, and I grab lunch just across the FL border. I then
highball to Gainesville, Fl to find an ACL painted GP7 at a Conrad
Yelvington quarry just north of the town. The quarry was closed, so the
best shot I could manage from the road had a sign obstructing my view. Oh
well, but its better then nothing...
http://www.prism.gatech.edu/~gtg541b...ainesville.jpg
I get back on I75 again, and head to Ocala, FL and find the Florida
Central's power tied up behind a fence. Nice looking CF7's though...
http://www.prism.gatech.edu/~gtg541b...en63_ocala.jpg
The last railfan stop of the day was in Wildwood, FL where I find CSX B40-8
#5937 parked in the yard in great light.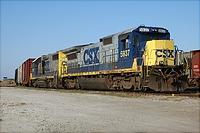 PhotoID: 138309
Photograph © Patrick Phelan
By this point, it's nearly 4:30, and I drive the last ~180 miles along the
FL turnpike to Stuart and a well-deserved rest..
Enjoy & Thanks for Looking,
Patrick