This is the final installment of my trip report. This one covers my trip
back from Stuart, Fl to Atlanta, GA.
I left Stuart, FL at 7 AM with my first stop in Wildwood, FL at the north
end of the FL turnpike. I wanted to shoot the parked Conrad Yelvington
switchers. I nail this one with great light and a convenient hardware
store parking lot.
http://www.prism.gatech.edu/~gtg541b...9_wildwood.jpg
http://www.prism.gatech.edu/~gtg541b...8_wildwood.jpg
-
Close up of the GP30M
CSX also had some parked power in their yard, but it couldn't be reached
for photography.
I kept moving north on the FL turnpike with my next stop at Valdosta, GA to
see if NS or CSX has anything parked. I find some parked CSX power
(B36/B40 combo), but it is in a terrible spot for pictures. I keep heading
north and find the GFRR power in Adel, GA, but its now in the afternoon for
a morning shot. I keep moving north, but on US41 instead of I75 to
Tifton. I get screwed over by some trees on a SB NS train at Lenox, GA and
also discover a set of NS catfish at a Martin Marietta quarry, but out of
reach for photos. I keep heading north and grab I75 at Tilfton.
Just north of Tifton, I encounter signs for 30 miles of roadwork and a
traffic back-up, so I decided to get off the Interstate at Chula, GA and
follow US41 north to Perry, GA, while paralleling the NS main. I hope to
get a couple SB's, and I'm rewarded with two. The first one was at
Sycamore, GA with a rack/stack train with a BNSF H1 C44 for lead power.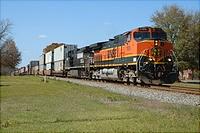 PhotoID: 138319
Photograph © Patrick Phelan
The next one is at Ashburn, GA with a horsehead SD60 leading a mixed freight.
http://www.prism.gatech.edu/~gtg541b...96_ashburn.jpg
I continue north and reach Cordele to find some parked CSX power that must
be used on the Cordele local. Older GE's are always a nice catch...
I keep going north, and was unable to track down any other trains. It was
a good, but long, day, and I was all too content to get back to Atlanta and
relax...
I hope you enjoyed this,
Patrick