The Similar to Previous Photo reject probably comes from the fact that you have this one in the database already: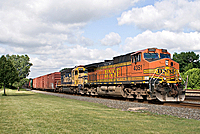 PhotoID: 189451
Photograph © Rich Kaminsky
While it's not the same engine number, it is the same location, the same angle, and the same type of engine in the same paint.
Variety is the spice of life, and alot of your shots are at this same exact location at the same angle. I'd encourage you to try new spots and/or new angles and spice it up.