On Monday, October 5th, my wife and I boarded Amtrak at
Pittsburgh's Penn Station
. For my wife, it was a day to see the Fall foliage. We should have waited another week, but our vacation times were already scheduled through our employers. For me, it was a day to travel through well known railroading places like the Gallitzin Tunnels, Horseshoe Curve, and the Rockville Bridge to name a few. Unfortunately, I did not take any photos from the train due to murky, water-spotted windows. They allowed for great scenery viewing, but would have made terrible photos to shoot through them, so I will link to others' photos.
Our day started by arriving at Penn Station at around 0650 with nothing but my camera. We tried to retrieve our tickets from the kiosk, but the reader would not read the bar code. The ticket agent gave us our tickets, and we were soon on the platform, ready to board.
My wife had never ridden Amtrak before, let alone the Pennsylvanian. She asked what side to sit on. I told her to take the side away from the platform, as we would be on the inside of the Horseshoe Curve. I let her have the window seat, since I rode from Pittsburgh to Altoona and back last year with my brother, and fellow contributor,
John
.
Departing Pittsburgh, we pass by thousands of morning commuters on their way in to the city to start another week's work. In Braddock, we pass by a 3 unit
Union RR
job headed into the
US Steel
works. We pass by the
Pitcairn Intermodal facility
, and make our scheduled stops at Greensburg, Latrobe, and Johnstown. We catch a glimpse of the
Johnstown Incline
, and are on our way east again, and pass by
South Fork
and the
Cresson Locomotive Facility
before going through the
Gallitzin Tunnel
and around
Horseshoe Curve
before stopping at Altoona. Our eastbound leg is roughly half complete.
Continuing on east, we pass by the
Juniata Shops
and
Rose Yard
. After we stop at Tyrone, we go through the tunnel at Spruce Creek and make our stops at Huntingdon and Lewistown. Going through Lewistown, we see
Juniata Valley RR
working the small yard there, and are back on our way to our destination of Harrisburg. We grab lunch from the Café Car since we don't know if there will be any fast food within walking distance once at Harrisburg.
Coming into Harrisburg, we cross over the Susquehanna on the famous
Rockville Bridge
and make the right toward Harrisburg passing by
Rutherford Yard
. We saw some NS passenger cars. It was hard to tell whether they were part of the OCS or geometry cars due to being hidden by freight. We roll in to the Harrisburg Transportation Center on time, and have approximately 1˝ hour to kill until our westbound Pennsylvanian arrives to bring us back home. It was decent activity from the Mulberry St. Bridge with 2 road freights and 2 locals going both directions on the old Reading in the hour that we were there. My only complaint is the too high safety wall directly over the Amtrak catenaries. I understand the reasoning, but it would be nice to have railfan portals cut like in the safety fence at Gallitzin, and the Center Interlocking at Youngstown. Here are my only successes from the bridge due to the lack of lit angles, and getting ripped by clouds: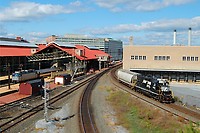 PhotoID: 299875
Photograph © Kevin Ashbaugh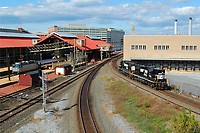 PhotoID: 300005
Photograph © Kevin Ashbaugh
We walk back into the transportation center early to use the restroom before boarding. The agents open the platform for boarding, and I venture off to take a shot of a Keystone Service regional waiting for the afternoon rush to start. I asked if I could sneak off for a shot or 2 of the
GG-1
, and was granted the
"I can't tell you that you can but…"
, but that entailed me going through an active construction zone on the platform, and I opted to pass today.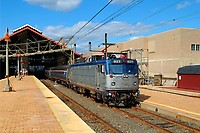 PhotoID: 299810
Photograph © Kevin Ashbaugh
We board, and are on our way back home. Sitting on the opposite side of the tracks, we get a better view of the scenery that we couldn't so well see in the morning. The farther west we travel, the lower the sun goes. Coming back into Pittsburgh, it is pretty well dark at 1945 in the evening, and the city lights are spectacular. We left Harrisburg six minutes late, and the engineer made up 1 minute to Altoona. After Altoona, he must have poured the coals in since we made it back to Pittsburgh approximately 20 minutes early.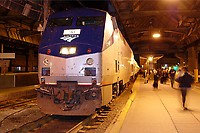 PhotoID: 300008
Photograph © Kevin Ashbaugh
So I ask. Have any of you ridden Amtrak, "
Just Because
"? Not to get from one point to the other for business, vacation, etc., but just to ride it to see the scenery. As railfans, we shoot all of these different areas with trains going by in our photos, but have you ever wanted to see these same areas from the rails? To actually FEEL the decent in altitude riding down the slide and around Horseshoe Curve for example. For most, it is the closest that we will get to seeing America's great railroading feats for the reason that they were built. To move trains. Our great photos are nothing but a by-product of their real purpose.