I got out all day Sunday in north GA for one last good day before having to start studying and finishing projects for the end of the semester. Here's what I saw...
I started the morning out on NS and first caught a SB Powder River coal train heading to Plant Scherer near Macon, GA.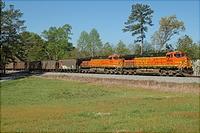 PhotoID: 140361
Photograph © Patrick Phelan
Next, we moved north and intercepted a NB mixed freight on Braswell Mountain with a pair of TFM SD70MAC's trailing the NS SD60 leading.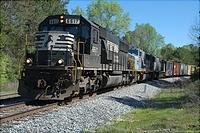 PhotoID: 140363
Photograph © Patrick Phelan
We then headed into Rockmart, GA at the north base of the mountain and found NS 174's lite power with a B32-8 and a couple C40-9W's. The B32 made for nice pictures.
After that, we decided to head over to CSX at Cartersville, GA where we caught a bunch of trains. First up was a NB container train with a pair of clean CSX ES44DC's at Kingston, GA (just north of Cartersville).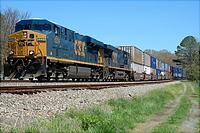 PhotoID: 140364
Photograph © Patrick Phelan
Back in Cartersville, we found a yard job switching cars with 4 4-axle GE's for power.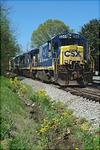 PhotoID: 140362
Photograph © Patrick Phelan
We saw some other NB's in Cartersville, but nothing was noteworthy about them.
Next, we move south to Emerson, GA and find a SB CSX auto-rack train with a BNSF leader.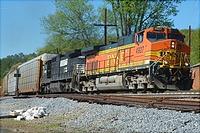 PhotoID: 140360
Photograph © Patrick Phelan
We also catch CSX SB Q141 with juice empties with a pair of C40-8W's.
We then head over to the Etowah River Bridge for the shot of the day of a NB empty coal train.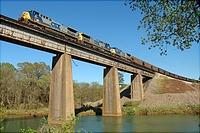 PhotoID: 140365
Photograph © Patrick Phelan
We decide to head south and stop at Smyrna, GA to get another empty coal train with the "Spirit of Dante" leading.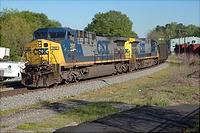 PhotoID: 140359
Photograph © Patrick Phelan
Thanks for looking,
Patrick