Is it a stick figure taking a picture sticking its square "arm" in front of the camera?!
Did you take one of the full crossbuck? That may work better in the future. I agree that the light really brings out the detail but as far as railroad photography is concerned, this doesn't really show railroading.
I do applaud the artistic intiative you possess, people should take note of that!
BTW, amazing uploads this morning! If it were up to me this: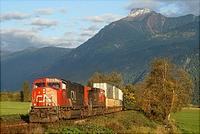 PhotoID: 166597
Photograph © Renaud Chodkowski
would be a Screener's Choice, but ::sigh:: it's not. Keep it up!