It runs Saturday and Sunday, at 11am and 3pm I think. It's been a few months since I went over there. It is in Tavares, FL which is NorthWest of Orlando in the middle of nowhere. CR561 and CR448 parallel the piece of the line used by the steam train. It's only about 8 miles out and back and they go about 10-15mph. At the "end of the line", there is a siding and they run around the train and run tender forward back. Unless this has changed, the afternoon outbound train is also tender forward because they are too lazy to wye just the engine (they dont want to do a brake test) after they get back to Tavares.
It's a pretty unremarkable, not very scenic area. Flat and lots of pine trees like the rest of the state. There is one bridge over a river but it is inaccessible unless you trespass or get permission from a homeowner to get there. Or get in a boat I guess.
This is about the most scenic part of the line, at the end of the line near Lake Jem.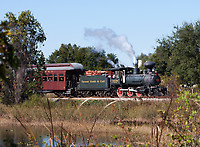 PhotoID: 384296
Photograph © Troy Nolen
This line is part of the ex-SAL Wildwood to Orlando mainline which was sold to Pinsley in the 90's. It only runs as far as Eustis now. Very little freight on this end of the line, and very infrequently.
I have not been out there since January, it's getting about the time of year that it's so ridiculously hot and humid that I dont railfan much. Summer came early this year.