A report of a pair of SD80MACs taking a train west out of Enola, Pennsylvania, caused quite a stir in the group of Conrail railfans gathered in Marysville for one of the semi-annual, Conrail Historical Society, Rail-B-Q's. However, once it was learned that one of the last Conrail painted units was leading, all heck broke loose as cars, pickups, and SUVs dispersed in all directions in order to get to one of the prime photo locations a little west of Marysville.
Cloudy weather around Cove and Duncannon made photographs of the pair unsatisfactory. I had not planned on chasing this train, but looking off to the west showed clear skies, so off I went. Since there were numerous chasers already on the hunt, I thought I woud surly be passed by one or more of the more energenic (or less law enforcement wary) from the photo line. However, I arrived at Thompsontown with no one else either in tow or past me like Mario Andretti at Indy. I thought about stopping at VanDyke, since I believed that I wasn't that far in front of the train, but the light wasn't quite right. So, I spun around and headed for Mexico. Upon arrival, an eastbound called out the signal on the scanner and blew for the crossing. I knew that it was going to block my shot of the 80MACs, but it passed by, and I had time to set up my video and frame my still shot before they rounded the curve into my view. Judge for yourselves . . . .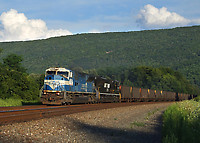 PhotoID: 245083
Photograph © Rob Kitchen
http://www.rail-videos.net/video/view.php?id=3231
Although my son recorded 29 trains past us during the 11 hours we hung out there, this photo, and one from the cloudy location near Cove, were all I took. It just seemed as if every time I set up to take a photo, a cloud would pass over the sun, or, if I would give up because of the clouds, a beautiful train would pass by just as the sun would decide to come back out.
Oh, well.
I did take one other video of a pair of perfectly painted ex-Conrail blue SD50s leading quite of few shiny new coal hoppers west through Marysville . . . .
http://www.rail-videos.net/video/view.php?id=3232