I have made the move to a new machine and with it came a new 23 inch 1080p monitor. I'm still getting everything adjusted and settled and would prefer to make sure my brightness/contrast/etc is on par here.
Sorry for picking on a shot to use as an example, but can someone confirm whether or not the noses of the locomotives in this shot are pretty clipped to white? It's how they are appearing on this monitor and I want to make sure I'm not seeing things wrongly...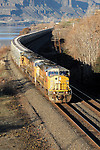 PhotoID: 315332
Photograph © Indecline
Thanks...
~Carl Becker