John Witthaus and I went out last evening and shot trains only in St.
Louis, no Valley, no Kirkwood, everything within the city limits, just
for something different.
Our first stop was MRS, where we caught this unit switching some cars
around the yard.....
PhotoID:
Photograph ©
We heard the Ivory Job get permission to go to Ivory with 17 cars. He
went by MRS as we were on the wrong side of the MRS switcher, but we
were able to run him down along the riverfront near the bulb terminal
area in south St. Louis. The truck in the left side of the photo
caused me not to get the shot once the train drew near, as I was
standing on the other side of the road. It made for a nice shot where
John was standing.
http://n691lf.rrpicturearchives.net/...aspx?id=152954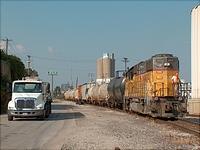 PhotoID: 111770
Photograph © John Witthaus
We then caught the train again along South Broadway, and ducked into a
side street to shoot it coming through some of the industrial scenery.
PhotoID:
Photograph ©
After that, we headed on back to downtown, where the trains started
flowing. First off was a remote job switching Lesperance Street. He
poked out onto Chouteau in some decent lighting. While backing, it was
unfortunate the lighting was poor, as he put on a decent smoke show.
PhotoID:
Photograph ©
Then we heard YDU50 07 on the scanner talking about going to
Lesperance. Our hope was that he was still across the river and would
drop down the high line into the yard. Soon we found that he was at
12th Street, but all was not lost. While waiting for YDU50 07, the 5
p.m. Manufacturers transfer headed east, so we caught him going over
Chouteau on the Terminal.
http://n691lf.rrpicturearchives.net/...aspx?id=152975
PhotoID: 111765
Photograph © John Witthaus
After that, we noticed a Hillcrest train was sitting over I-55. That's
great, we thought, we could catch him coming off the wye and heading
south into Lesperance. So we waited for him in a little parking lot
where we could keep him in view. While waiting, BNSF's M TULGAL1
showed up, so we zoomed up to the President Casino to get a shot.
PhotoID:
Photograph ©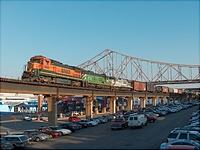 PhotoID: 111768
Photograph © John Witthaus
We headed back to the Hillcrest train, then found that he had moved
already. The BNSF was far more important, so we did not mind. The DPU
on the Hillcrest train was not facing west, so we gave up on that
train altogether. As we were waiting, a set of BNSF power, probably a
TRRA run back to Madison, came by and headed up the high line. So we
chased that one and caught it north of downtown.
http://n691lf.rrpicturearchives.net/...aspx?id=152993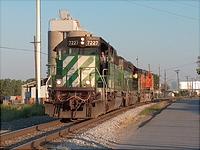 PhotoID: 111771
Photograph © John Witthaus
By now the sun was starting to get low, so we decided to head home. We
then realized the Hillcrest train, CNARU9 03 was probably somewhere
easy to catch, so we chased it down. We ended up catching it along
South Broadway, too late to get any decent shots. I took this one just
because I thought the sign was funny. Watch for forklifts. It just
struck me as funny, given that trains may be the bigger worry.
http://n691lf.rrpicturearchives.net/...aspx?id=152994
We also ended up running into YSL72R 07 again while he was switching
Asteris. There was enough glimmer of sunlight to get this shot....
PhotoID:
Photograph ©
But by the time he poked over the River Des Peres, or River D' Pew,
whichever you prefer, the sun was gone.
http://n691lf.rrpicturearchives.net/...aspx?id=152996
And that was it. Not bad for three hours worth of work in the evening.
We were both happy with the results. I hope you enjoyed, too.