Hey all,
This is my report for Manchester RR Days 2005. I only stayed for Saturday, but we did get some quality trains and photographs.
I arrived about 10 AM and was greeted with Q549 with 4 wide-cab six-axle GE's (2 C40-8W's and 2 AC44CW's) in three different paint schemes (CR Qulaity, CSX YN2, SP (UP Patched), and CSX YN2). It went into the yard to never be seen again.
Next up was Q215 with CSX C40-8W #7883 and a CR-painted SD40-2 #8821. I shot it off the bridge by the viewing platform.
About 20 minutes later, Q179 showed up with BNSF SD70MAC #9620 in the BN vanilla/green paint scheme. The Q215 shot looks similar to this, except it has a CSX unit in the lead.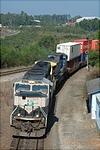 PhotoID: 122090
Photograph © Patrick Phelan
After Q179, it was time for lunch at local BBQ joint. We got back to downtown around 1PM to see X606 changing crews. Also, a local crew came on duty for A720 (?) and started switching with a B40-8/B30-7 combination.
We decided to move down to Woodland and get X606 and were rewarded with a great shot as it sat in the siding waiting on a NB or two.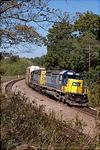 PhotoID: 122087
Photograph © Patrick Phelan
Q124 comes north with a SD70MAC/AC60CW combo for power with Tropicana juice cars on the head end and then X606 starts south. We wait at Woodland for Q549, but instead we get Q541 with a trio of SD40-2's for power (CSX 8444 leading the way with two rent-a-wrecks).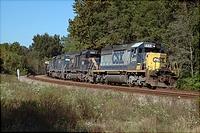 PhotoID: 122105
Photograph © Patrick Phelan
We decide to head back to Manchester and get a couple trains. Q180 is getting a new crew, so we move over the 5th St. overpass to shoot him. In the end, we get a triple meet. As you can see in the picture, Q180 has pulled up waiting for the mixed freight to clear with a CSX C40-8W and a UP SD70M for power. The mixed freight's power is visible in the background. Also, Q124 is heading north to ATL as the containers stream by in the very back of the background.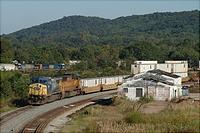 PhotoID: 122089
Photograph © Patrick Phelan
Next up, a CSX loaded coal train enters the yard with two AC44's. The plan is for the power to cut-off and shove Q549 up the hill since it is having significant engine problems.
Lastly, A720 (?) comes back to Manchester off of the Lineville Sub and drops its cars and parks their engines in the pocket track. Here's a shot of them heading home.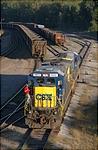 PhotoID: 122091
Photograph © Patrick Phelan
Thanks for reading & viewing,
Patrick