I met up with Tom Murray at about 8:45 for another early
(well earlier) Saturday morning. As usual we stopped off at the Dunkin'
Donuts (insert cheep promotional plug here) for a coffee and bagel.
We got to QB-135 in Becket Mass and got situated. We didn't know how
long it would take, but we knew we were destined to catch something.
Finally a snow ball fight or two later, we heard a rumbling coming from
the west and sure enough Q436 came through and brought the first of a
couple surprises. It had a pair of six-axle GE's leading, one of which
was a former Conrail unit. The train itself had a variety of cargo and
went by pretty quick.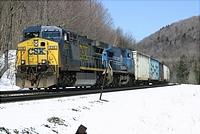 PhotoID: 99208
Photograph © Ryan Parent
About five minutes after that Q174 brought the next bucket of
surprises. When it came down the mountain it brought with it two UP
units, one of which was flagged the other was not. It took us by
surprise because we didn't expect to see the UP on the 174 but sure
enough there it was right before our eyes!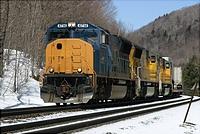 PhotoID: 99134
Photograph © Ryan Parent
Well, unfortunately my camera didn't decide to be at it's best and
needless to say I only managed to get a couple of pictures of the unit
in motion, but I think between the four of us we managed to get enough.
The haul itself was a small piggy back from Jacksonville.
Ten minutes after the detector tripped for 174, Q116 hauled east with a
Dash 8 and a pair of SD70's. Nothing to special about this train, but
it made it over the hill! Shortly after that Q283 followed with a
AC44 and a AC60 leading towing 80+ autoracks. They were lucky if they
were going 15mph.
http://photos.nerail.org/showpic/?ph...jpg&bydate%3A7
Following that we decided to headed to Pittsfield Yard to learn that
Q424 was still stuck in the yard. We were going to take pictures, but
the cab was blocked by some freight cars. Instead, Ryan and I went off
and took pictures of the mean, green snow-blowing machine, the SB1000.
Let me tell you, if you haven't seen this yet...It's hard to miss. It's
big and it's lime green. It could probably make a tunnel through a
mountain in about ten minutes..lol.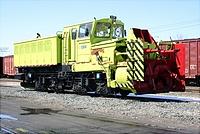 PhotoID: 99122
Photograph © Ryan Parent
After a few shots there and a quick stop at Wendy's we went to the old
Amtrak station in Pittsfield to see what was shaking. We ran into a few
railfans and from what we learned after SD40John was there as well. We
thought we saw him but we weren't sure if he drove a silver car or not.
We also met another fanner from the crows nest who gave us a few good
tips for fanning around Pittsfield. It's a darn shame we ate at Wendy's
because he informed us of a wicked taco place as well. Oh well, maybe
next time.
After ditching Tom's car at the end of the access road we piled into
Adam's SUV to go up to the top of the line. There we caught Q424/B930
powered by 2 GP40-2's an SD70MAC, SD60 and a Dash 8. He was making
pretty good speed and only had a few flats spots in his cargo.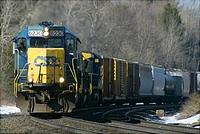 PhotoID: 99150
Photograph © Ryan Parent
We waited a while and after decorating the snow and a challenging game
of "throw the rock" we caught the W862. He had what looked like loaded
salt hoppers.
http://photos.nerail.org/showpic/?ph...e=3&key=scampy
Minutes later P448 came from the west, a little late followed by A
very late Amtrak Lakeshore Limited 449 came from the east.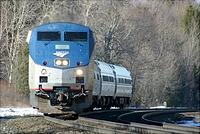 PhotoID: 99124
Photograph © Ryan Parent
Shortly after the two Amtrak's came and went, Q420 came charging up
Washington Hill with an SD70MAC and an AC6000 for power. He had 20 or
so autoracks right behind the power.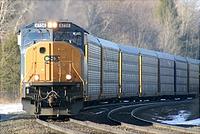 PhotoID: 99121
Photograph © Ryan Parent
Ten minutes later, Q421 came crawling up the hill with a pair of new
SD70MAC's for power.
After fighting to get off the hill and driving through the mud, our day
was finished and we were ready for our ride back home.
All and all it was a great day to shoot, meet people and have fun. I even managed to get a sun burn!