OK, I can understand the high number of views. No doubt people will want to click on the thumbnail.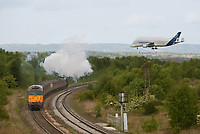 PhotoID: 283292
Photograph © Graham Williams
However, I would have thought that most people's reaction ought to be, "Oh yeah, right", then close the picture.
But, why have 38 people favourited the shot? It's only a freak shot, a curio. It doesn't have any great photographic qualities. The train is going away, and you can hardly see the steam loco, which was the reason I was there. Maybe there might be good cause for a few Brits to favourite it ( location, train etc.), but why people from around the world?
Mind you, it's now my most favourited shot!
Still, people are obviously interested, I attach a shot taken a little while later on my way to my next location at the airfield which shows the Beluga getting ready to load. You can see a platform to the left with a couple of wings on it and the loading door of the aircraft is open.
BTW, in my opinion, the next location produced what I think is a much better shot.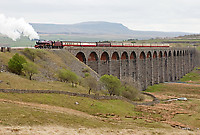 PhotoID: 283323
Photograph © Graham Williams
As a matter of interest, as someone suggested, I have submitted it to JP.net. I think it has no chance of being accepted, but I suppose there would be some kind of kudos in having one shot on both sites.