Not only is this my first photo accepted, it is also the first photo I ever took of a train: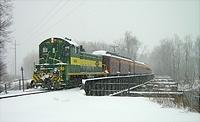 PhotoID: 45460
Photograph © Chris Paulhamus
This shot is special to me as it is the only one I ever took while my father was alive. Just 15 days after this shot was taken, he was gone. But I remember showing him the image on the tiny LCD of my Coolpix and he got quite a kick out of it. For that, it will always be my most cherished railroad photograph...