I found out that the iconic tower that protected the diamond on the former NKP Racetrack in Leipsic Ohio was demolished yesterday. I figure there's some people here that visit that area, so you can mark one location off the list for your next trip.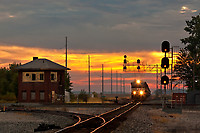 PhotoID: 485964
Photograph © Loyd Lowry
Leipsic was hands down my favorite sunrise location in NWO, and I spent many a morning there.
Loyd L.