Quote:
Originally Posted by ngotwalt
Hello all,
I have posted several night shots, which have been rejected. I think a lot has to do with the horrible yellow lights used by local municipalities. Is there any good way to deal with these lights, as they have seemed to just overpower my shots and they always end up looking crappy.
A well sighted M-1 or AR-15 would do the trick.
Those are High Pressure Sodium lights, which many municipalities prefer to use. I shoot a lot of night shots at a UP yard that is full of them. One thing you want to do right away is find the best white balance setting to minimize the yellowness of the shot. After that, you can tweak some color balance in a photo editor to get rid of the rest
Quote:
Originally Posted by ngotwalt
Now I noticed some other things that were crappy about the shot in question, that I some how missed before like the bad color variances in really dark areas, but I'd like some advice on it.
Thanks,
Nick
http://railpictures.net/viewreject.php?id=177833
Something else to avoid, if possible, is the lamps in the picture itself. They tend to overpower the picture because they are too bright, something to which you made reference above. Find a decent source of ambient light and go with that. In your picture, the engine is underexposed. Had you exposed the engine properly, it would have looked like a series of nuclear explosion in the background due to those lights. It's certainly something that takes a little practice, so don't worry.
Mercury vapor and metal halide lights are my favorite outdoor HID lights for pictures, unforunately, have long ago fallen out of favor in many areas. Mercs are the bluish or white/pinkish lights, metal halides are similar, but are more intense. Those are more frequently used at places like car dealers, shopping centers, and other areas that need a high intensity light.
Here are a few examples of some night shots that I have done, and a little explaination as to what is going on in the picture to possibly help you out a little:
PhotoID:
Photograph ©
In this shot above, I used about a 13 second exposure, I believe, at ISO 200, probably something like f 4.0. There were no direct lights in the picture, so everything lit was using ambient lighting. To my left were several HPS streetlights, and you can see, even after the white balance setting was chosen, and a little color balance adjustment was done in photoshop, it still has a yellowish cast, but nothing too harsh. Some may think the yellow cast of the UP engine itself ruins the picture, but that is a different story.
PhotoID:
Photograph ©
In this shot above, I was back in HPS hell, as I call it. I had the fortune of having one 175 watt mercury light off to the left, which gave somewhat of a glint angle anyway. It is arguable, though, if that merc made a difference up against the bombs in the background. Different from the shot above, there were these bomb lights in this picture, and they were the evil 400 watt HPS lamps. I had to watch that I did not overexpose them while trying to get the proper exposure on the engine. One thing ended up working in my favor. Another train was pulling into the yard, giving a soft and predominant light to the front of the engine, right where it counts. That really made the picture in my opinion, otherwise I would have had to expose longer to get good nose lighting, and who knows what those glarebombs in the background would have come out looking like. This is my favorite night shot of mine.
http://n691lf.rrpicturearchives.net/...aspx?id=209205
Above is what happens on a foggy night HPS hell. It looks like you are on a different planet. This shot is a little underexposed, which is in part due to the fact I did not compensate enough for the dark blue color of the engine in contrast with the lighter sky. Another couple seconds probably would have worked better.
http://n691lf.rrpicturearchives.net/...aspx?id=209207
I achieved good results with color balance correction in photoshop getting rid of that yellowness in the above picture, taken at the same location as the other UP 2002 shot.
http://n691lf.rrpicturearchives.net/...aspx?id=209204
The above picture stinks, I'll admit that, but I kept it in case people like you wanted to try to learn a few things from my mistakes, or in this case also from things beyond my control. First off, the shot is grainy as heck. I had to go to ISO 400 because we were in the middle of nowhere, with little to no ambient light. The light on this train was primarily from the headlights of John Witthaus' car parked nearby, yet not shining directly on the train. I still could not get a good exposure on it, even opened up to 30 seconds. ISO 800 would have done the trick, but it would have looked like you were looking through sand. Because it was a 30 second exposure with little light, guess what took over. The headlight. Look at how that glared out. The only neat thing is that the beam was visible in the fog. This headlight was on dim, too. Imagine if it were on bright. Also, note that what little light there is from the headlights only really lights the front half of the CSX unit. The back disappears into the darkness. In an environement around even ambient light, this would not be as much an issue. The other problem with the shot is that there were some weeds in the way, but I did not feel like getting out of a car in the middle of nowhere, walking up to a train, and pulling weeds. The crew probably thought we were loony enough as it was.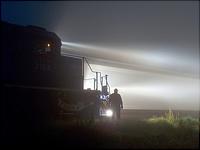 PhotoID: 119311
Photograph © John Witthaus
In John's shot, the engine is quite underexposed, but that is OK. The focus of the picture is the beam from the headlight in the fog, and the silhouette of the conductor doing a rollby, a great representation of railroading rather than simply a train. He did not need ambient lighting here to catch this effect, and as you can see, there is no trace of his car headlights.