On October 29th and 30th, 2005, Wilmington & Western held its third and final Steam Meets Steam Weekend of the year. My brother and I watched the weather over the week and chose Sunday as the better day to go.
We got up at 8:30Am threw our camera stuff and made the hour and a half trek down to Wilmington, DE. We arrived at the Greenbank Station saw the two engines (#58 0-6-0 & #98 4-4-0) preparing for the days busy schedule. Before the first run we checked out the two crossings on the south end of the line and the possibilities for decent shots. We decided to hang around the Rte. 41 crossing for the frist two trains. (A good choice as this part of the line parallels the CSX main which gave us somethign to do while waiting.) Here are the results from the first crossing.
PhotoID: 123728
Photograph © Andrew Blaszczyk (2)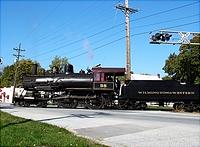 PhotoID: 123730
Photograph © Christopher Blaszczyk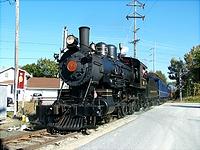 PhotoID: 123827
Photograph © Christopher Blaszczyk
We then moved to the Old Capitol Trail Crossing and waited for the next two runs of the day. This proved to be a great spot due to the different possible angles available.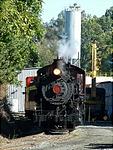 PhotoID: 123733
Photograph © Andrew Blaszczyk (2)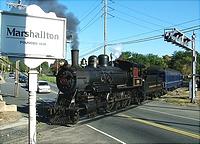 PhotoID: 123731
Photograph © Christopher Blaszczyk
We grabbed lunch at the station as the next two runs went out (the sun wasn't great out on the line). The last run left was the doubleheader of the two steamers (the main reason for the trip). With the low sun angle and mainly wooded area around the Ludlow Bridge (over Red Clay Creek) those shots were not up to RP standards. But whiel the two sat at the staion glint shots were available