Got the opportunity to head out to Blacksburg, Virginia in July, and was really looking forward to the photo ops there. Unfortunately, the weather didn't cooperate. It's still a great place to railfan, though, so I thought I'd post a trip report for others interested in the area.
First day, 7/12/06, started out at Whitethorne. It's a helper station west southwest from Blacksburg, along the New River. The helpers tie on there to give eastbounds a shove toward Roanoke (I'm not sure how long they stay tied on). There's a small house there, and the on-duty one-man crew can relax in the house between calls. The morning I was first there, it was very foggy, which would have been all right after the sun got higher, had there been any traffic.
Whitethone Morning
Morning Two
EDIT: In this shot, note the spare knuckles on the ground. I guess they go through them fairly often.
After I'd had my fill of silent locomotives in horrible light, I went exploring. Near Vickers, VA, I found an old coaling tower. This is on the busier line from Roanoke through Christiansburg and on to Radford and points west; skipping the run up the New River toward Bluefield, WV.
Vickers
I could have gotten some decent shots here, but the fog turned into a hazy broken layer which just killed the light. This manifest had eleven units on point. I'm sure at least half were islolated, but it was still cool to see that many locomotives running at speed.
Vickers Power Move
A couple day later I headed out along the New River, between Pearisburg and Glen Lyn. Instead of fog, I had thunderstorms. Joy. I did manage to get a decent shot of a westbound at CP Robinson. Half of the crossover still sports classic signals. The other half has been updated.
CP Robinson
There was a beautiful scene facing the other way, but I got impatient and left to follow the tracks. Sure 'nuff, I hadn't gotten a mile when an eastbound passed me heading for where I'd just been. DAMN! I pulled a nearly James Bond-esque u-turn, and raced back to a crossing just west of Narrows, where I managed this cloudy shot...
UP4440
Interestingly (to me), I'd shot the UP 4440 before, in Terre Haute: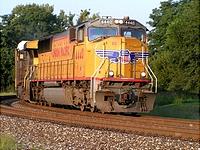 PhotoID: 117983
Photograph © Bret Stringer
Then I headed west again along the river, all the way to the power plant at Glen Lyn. By now it was raining steadily, so no pictures. I think the bluff above the power plant would offer some neat pictures for a future visit.
On the way back east, I stopped at the depot at Narrows and caught a grain train. It was still raining, but luckily the train was lead by BNSF power to brighten up the shot.
BNSF at Narrows
Finally I headed back to Whitethorne again. It wasn't raining there, but high clouds were the rule. Luckily, the helper engineer was just firing up his units to go catch the UP 4440 I'd seen earlier. I got some shots of him lining himself out to the siding, the UP 4440 waiting, and finally the train on the move.
Lining the Route
4440 Waits
Still Waiting
I love the above shot, except for the unworkable lighting. I hope I get a chance to try that again some day. I've run it through editing till I'm sick of it, and it still won't work. Oh well.
Pushing East
I can't say I was stalked by horses on this trip, but there were a couple of hillbillies looking at me funny. Couldn't tell if they liked my car, my camera, or my mouth.