You mean my camera can point at other things that arent train related!? YOU LIE!!!
I actually do a lot of ferry boat and nature photography. I live in the Pacific Northwest so Im spoiled with nature, like mountians, sunsets, and the Puget Sound. [Also trains roaming around in nature
]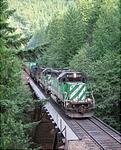 PhotoID: 120099
Photograph © Mike Bjork
__________________
~Mike Bjork
UP's new slogan for Amtrak:
"We'll help you spread you wings and fly right into a siding!"
TRAINS TRAINS TRAINS!!!
May the fun never end!
I'm a traitor! Im on JP.net!
But all my plane shots involve trains!
BN FOREVER!