Hey all,
I got for an hour today between 12 & 1 under clear skies and caught a couple trains.
First up, NS 2622 and two other units were sitting on a grain train at Inman. Various non-black locomotives could be seen down at the shop including a pair of ex-UP EMDX SD40-2's.
Next, a Scherer train showed up with a GEVO in the new paint scheme. It changed crews at Rockdale where I got this shot with the train, kudzu, and the Rockdale signal.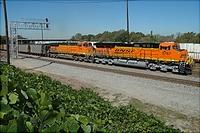 PhotoID: 122403
Photograph © Patrick Phelan
I beat it to Jefferson St. and got another shot of it. Also, sitting at Jefferson St. was a NB mixed freight led by a 2500-series SD70, an ex-CN NREX SD40-2, a WC SD45, and a EMDX SD40-2.
Moving on, there was a NB CSX freight at 10th St. with a pair of UP units, a wide-cab CN SD40-2, and an ex-SP HLCX tunnel motor for power. I moved on back to Inman to see a NB enter the yard with two GE widecabs (one NS black, one CR blue). I also a SB come to Rockdale with two Caatfish and a MRL SD40-2 for power.
I then moved on to CSX's Tilford Yard where I saw a CSX MP15 #1212 dumping ballast in the yard. CSX GP38-2 #2702 was parked up near the shops on the lead to the training academy. A light power move came north with 4 engines (SD60M, 2 C40-8W's, and a C40-
all in CSX paint. A SB trailer train was sitting at Pine St. with yet another CSX widecab GE and a UP SD70M. Lastly, I saw a SB vehicle train with a CSX C40-8W and FURX SD40-2 heading south on the old Coast Line.
That's it...
Take care,
Patrick