Quote:
Originally Posted by
cblaz
I'm confused. Why are we congratulating Paul? What kind of creativity or skill does it take to record an image like this? This is another one of those "a one-armed monkey can take this" type shots with no thought or composition put into it.

Along that same vein, who are all these people clicking on the shot? Are all foamers that sad and lonely that they need shots like this on RP so they can rub one out?

- Chris
Star Wars nerds have Princess Leia's gold bikini scene, tech nerds have Olivia Munn and train nerds have the girls of RP.
No offense Chris, but I don't see why you are so displeased by this photo. It's not so much different than yours.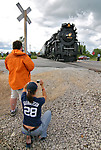 PhotoID: 307440
Photograph © Christopher Blaszczyk