Quote:
Originally Posted by
unkannyvalley
Hello, I am new to posting and need some help. A couple of my photos have been rejected for underexposure. This is the latest:
http://www.railpictures.net/viewreje...&key=853957451
I believe my computer monitor may be a bit bright because it looks decent on my screen. Do I need to darken my monitor a bit so this does not continue to occur? Any help would be appreciated. Is it worth brightening the photo a bit and appealing or is their something else wrong with the photo? Thanks.
Under exposed-yes. But, as Dave said, it is also over cast and blah in the lighting. It would make a nice photo on the site on a sunnier day, so go back if possible and get us that shot.
Just for the record, correcting/resubmitting and appealing are 2 different beasts. If you want to correct the under exposure on this and resubmit it give it a try, but don't be suprised if common power/cloudy day/overcast comes next.
Appealing is for explaining why you see a rejection differently than the screener...example: You take a shot with an old water tank that actually leans, and it gets rejected for unlevel. You appeal stating that the tank actually leans and explain how YOU leveled the shot by using the pull chain as a vertical since it would definately be plum.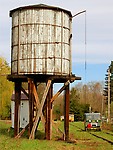 PhotoID: 282944
Photograph © Kevin Ashbaugh
NOT ALL APPEALS GET REVERSED THOUGH, so don't expect that just because you make an arguement, that your shot will get in.