In the southwest corner, we have Ray Lewis, weighing in with Donner Pass and all the might of the Union Pacific.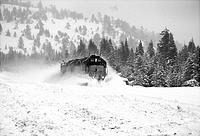 PhotoID: 168498
Photograph © raylewis
In the northwest corner, we have Martin Burwash, coming into this game with Stevens Pass moderns & classics featuring the powerful BN and BNSF Railroads.
PhotoID:
Photograph ©
Who will win this "fight" of AMAZING winter shots from their region? I think we're all winning this one.
Man, those twn gents give me my fill of winter shots. Martin, Ray, and the rest of RP.net, lets keep winter coming!
__________________
~Mike Bjork
UP's new slogan for Amtrak:
"We'll help you spread you wings and fly right into a siding!"
TRAINS TRAINS TRAINS!!!
May the fun never end!
I'm a traitor! Im on JP.net!
But all my plane shots involve trains!
BN FOREVER!