Many of you have likely noticed over the last few weeks, my uploads with the header of "ALCO Safari." Here is my trip report from my 2021 ALCO Safari road trip!
This all starts with my daughter, who was born August 2020. Due to the Covid slowdown in the rail industry, I didn't quite qualify for 2021 Vacation with CPRail, so I decided to take my "bonding time" FMLA with my daughter towards the end of summer to serve as our family vacation as well just before her 1st birthday. It was a blast, we spent a few weeks with family in St. Louis, took a trip with family to Myrtle Beach (it was a bit concerning to watch my daughter run fearless towards the sea lol), and a quick stop in Gatlinburg, TN to round it out.
From my wife, as my first fathers day gift, I was "given" 5 days to myself to go on a road trip through New York and Pennsylvania in search of ALCO locomotives. Anyone who knows me, knows I'm an ALCO nut, so this was a pretty big deal.
I don't get out to shoot much anymore because working for CPRail takes it out of me, and it's hard for me to find interest in what I see every day at work (I think many railroaders can relate). That being said, my camera equipment doesn't exactly get used regularly anymore. So, as we were finalizing our out-of-town plans, I decided that an equipment test was in order, it hadn't been used since going to Arizona in 2019.
DAY 1, 07/19:
I figured what better place to start my "ALCO Safari" than the local-to-me Minnesota Commercial, who still roster several ALCO and MLW products, despite having been somewhat displaced on roster by the newer GE units. The goal here was to finally get out and shoot RS-27 #316, but unfortunately, it had recently suffered an air compressor failure, and was out of service. so, I had to settle for RS-18u #83, which was usually rotated with 316 on Job 52, but was now being used every day. The other, less photographed unit I wanted to catch was MNNR 80, a RS-23 that is used to switch their transload facility in Fridley, MN.
The MNNR being a smaller railroad, is pretty easy to figure out. Job 52 (known as the Hennepin Job) goes on duty at 0700, and usually is ready to depart by 0800-0830, the transload job in Fridley goes on duty around 1100-1200. So I headed out, and sure enough found Job 52 ready to depart Midway Yard, Northbound. So I followed them as they headed North under interstate 35W.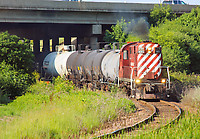 PhotoID: 777404
Photograph © John Witthaus
And then again, after they serviced a few industries, and headed back South.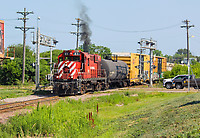 PhotoID: 777392
Photograph © John Witthaus
The Job 52 crew was a bit cranky that day, so I decided to head to Fridley from there and check out the CTM switcher. After about a 45 minute wait, the CTM crew came out fired up the locomotive and got to work pulling and spotting the facility. CTM transloads lots of steel coil, and #80 was definitely working hard, switching the heavy cars.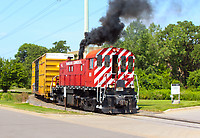 PhotoID: 777406
Photograph © John Witthaus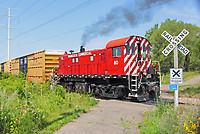 PhotoID: 777408
Photograph © John Witthaus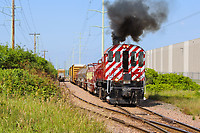 PhotoID: 777410
Photograph © John Witthaus
I also managed to grab a short video of MNNR 80, something I would decide to do with many of my ALCO Safari stops.
After the crew spotted the facility, they tied down the locomotive, and satisfied with what I had gotten I headed back home, on the way home I heard Job 52 still switching, so I swung over and grabbed one more shot of them switching Viking Materials, and then called it a day.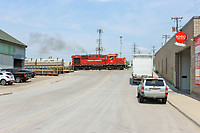 PhotoID: 777393
Photograph © John Witthaus
DAY 2, 07/20:
The next day, I needed to grab a few groceries from the store, while I was out, on a complete whim, I decided to head down to CFI/Mosaic in Rosemount, MN. This is just a few miles from my house, and having delivered potash trains there before for CP, I knew that they did their own switching, and operated ALCO's, including a former GBW RS-20. I was in luck, and the crews were finishing up switching out a UP train that had been delivered the other day. There were plenty of "No Photography" signs, so I checked in with the main office to see if they cared as long as I stayed outside the fence, they said they didn't care, so I drove back over to the side to see what shots were even possible. I was rewarded with just a couple of shots of their ALCO S-2, and their leased ex-GBW RS-20, but the crew had just finished pulling the empty cars, and was about to be finished for the day. So I headed back home.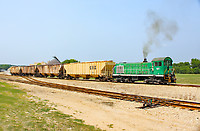 PhotoID: 777414
Photograph © John Witthaus
PhotoID: 777415
Photograph © John Witthaus
DAY 3, 08/01:
After spending a couple weeks with family, it was time to begin my trek East to ALCO land, this was in fact my first time ever going East of Indiana, save for a few Florida vacations. My plan was to drive from St. Louis to Meadville, PA where I would start with the WNYP, however I discovered my route would take me right through Akron, OH, so I decided a quick stop at the Cuyahoga Valley Scenic was in order, since I knew they ran ALCO's. I made a turn towards downtown Akron, and shortly thereafter was able to catch their Sunday afternoon run stopping in Akron and then returning north.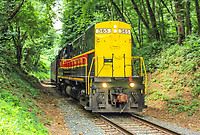 PhotoID: 779148
Photograph © John Witthaus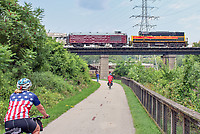 PhotoID: 779216
Photograph © John Witthaus
From there, it was another hour or so to reach Meadville. After arriving at Meadville I checked into my accommodations, and went to scope out the WNYP yard. I was happy to find WNYP C430 #432 and C424 #426 in the yard for the following day's job. I returned to the hotel, and prepared for the next day.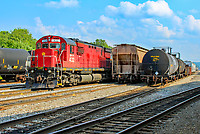 PhotoID: 779245
Photograph © John Witthaus
DAY 4, 08/02:
I was pretty excited for my first official road trip day, I had chosen the Western New York & Pennsylvania mainly because it was the shortest drive from STL to go to Meadville. I had some tips that they would be going down the Oil City branch, and even over the wye bridge at the end of the line. When I got to the yard in the morning, I struck up a conversation with the Trainmaster who was filling in as a conductor for the day, and he confirmed that was the plan. He even offered me a job lol. They began their first tasks of switching the yard, and several industries around town.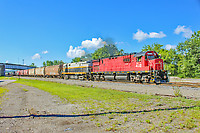 PhotoID: 779283
Photograph © John Witthaus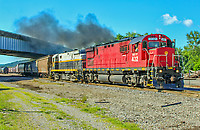 PhotoID: 779364
Photograph © John Witthaus
The lighting was challenging to say the least.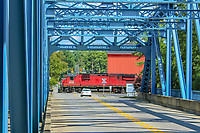 PhotoID: 779258
Photograph © John Witthaus
After about 6 hours of switching, it became apparent they wouldn't have time to run to Oil City, and again, the Trainmaster confirmed this. I thanked him for his hospitality, grabbed a parting shot, and headed in the direction of Lakeville, NY, my next stop.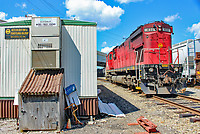 PhotoID: 779336
Photograph © John Witthaus
Again, I shot a short video while in Meadville.
On my way to Lakeville, I pulled off at Olean, NY in the hopes that there something moving at the WNYP's main yard and facilities, but alas, nothing. I did find WNYP 406 and 431 on the West side of the shops, and snagged a shot thru a hole in the bushes/trees. Also on site was another C430, and some of the former CSX AC6000's.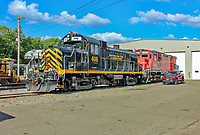 PhotoID: 779356
Photograph © John Witthaus
Then on to Lakeville it was...
DAY 5, 08/03:
For those wishing to visit the Livonia, Avon and Lakeville, I can absolutely recommend the Rodeway Inn, in Lakeville.
I got up bright and early with a tip that the LA&L yard job starts around 0800 and works around town. While scoping out the LA&L shops, I found this gem tucked away on the side of the shops.
LA&L no longer offers photography waivers, so everything in the shop area must be telephoto.
It took me a while to find them, but that was mostly just me being impatient. Eventually I found the yard job switching ADM on the South end of LA&L's Lakeville trackage, with LAL 72, an ALCO S-2 that turned 80 y/o this year. Incredibly, this unit is still used everyday in revenue service.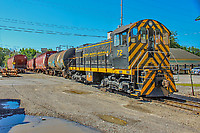 PhotoID: 779479
Photograph © John Witthaus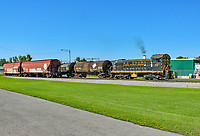 PhotoID: 779515
Photograph © John Witthaus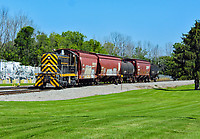 PhotoID: 779535
Photograph © John Witthaus
After a couple hours, the yard job finished their work and shoved back to the yard. I also knew from some very helpful tips, that the road train to Rochester would be on duty at noon, so I grabbed a quick bite to eat and headed back to the yard around noon-thirty and spotted the road crew pulling the power out, C430 LAL 433, and C425 LAL 425.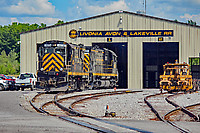 PhotoID: 779539
Photograph © John Witthaus
Knowing they were only heading North with a handful of cars, I headed right up to Conesus Lake Jct. I knew the lighting would be challenging Northbound, but it certainly helped bring out that classic ALCO smoke here.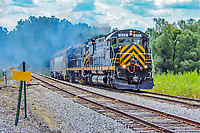 PhotoID: 779581
Photograph © John Witthaus
From there it was over to Pole Bridge Rd. for a pretty neat bridge shot.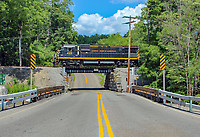 PhotoID: 779626
Photograph © John Witthaus
LA&L is a pretty easy chase, and there are roads that follow the route all the way into Rochester. They made a quick stop in Avon to pick up flour mtys from Barilla USA before continuing North, there were no good shots here, so I continued on to get them just South of Rochester.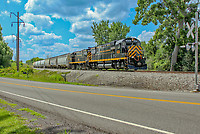 PhotoID: 779682
Photograph © John Witthaus
Then, I had to get them crossing the Genesee River before heading into the inaccessible CSX Genesee Jct. interchange yard.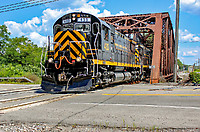 PhotoID: 779690
Photograph © John Witthaus
On the trip South, I got hosed by the clouds in several spots, and even though track speed is only 25 MPH, traffic certainly doesn't help. I got them in Industry, NY, but the shot just outside Avon turned out better.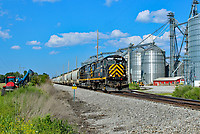 PhotoID: 779706
Photograph © John Witthaus
I stuck around and watched them switch the small yard in Avon for Barilla, spotting the loads.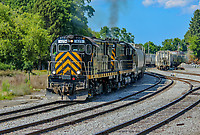 PhotoID: 779713
Photograph © John Witthaus
I noticed some decrepit buildings on the South side of Avon and thought it was interesting subject matter. They left with just one car for Lakeville, after switching out the train at Avon.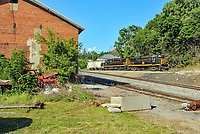 PhotoID: 779717
Photograph © John Witthaus
Finally I grabbed one last shot at Papermill Rd.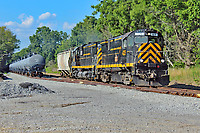 PhotoID: 779755
Photograph © John Witthaus
I did follow the train into Lakeville, but there weren't really any good shots to be had, so I hopped onto I-90 and headed towards Utica, NY.
I decided to take more extensive video this time:
DAY 6, 08/04:
After arising from my somewhat sketchy accommodations, I made the short trip into downtown Utica to see what the Mohawk, Adirondack and Northern was up to this morning. I did find them switching in their Utica yard, but there isn't really any access, so I bided my time until they made their calls to the CSX dispatcher to head for Rome.
I found out though, when they call, you better pick a spot, because they don't horse around, they will beat you to Rome on the CSX main. So, of course I missed them lol.
I did find them in Rome, however, switching in the old Air Force base.
PhotoID: 779828
Photograph © John Witthaus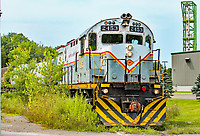 PhotoID: 779835
Photograph © John Witthaus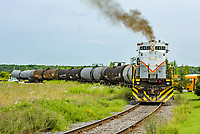 PhotoID: 779840
Photograph © John Witthaus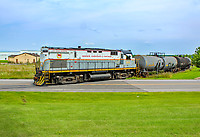 PhotoID: 779872
Photograph © John Witthaus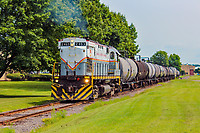 PhotoID: 779941
Photograph © John Witthaus
Although it was a sunny-ish day, the thin high clouds proved the most challenging lighting conditions of the whole week.
The MA&N this day had a light work load, and they soon went downtown to pull a few mty flats out of a steel company.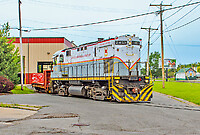 PhotoID: 779977
Photograph © John Witthaus
Learning from my previous mistake, I picked my spot on the CSX main when they called to depart Rome after finishing their air test, then after waiting for a w/b CSX stack train, they finally departed East for Utica. GVT's ALCO's are well maintained, and hustling freight on the main is no problem, the detector got him at 58MPH.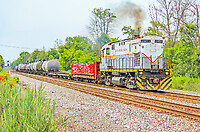 PhotoID: 779983
Photograph © John Witthaus
Of course they beat me back to Utica, but I was able to get a few parting shots as they spotted a few rock cars for loading at their transload operation.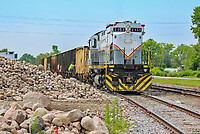 PhotoID: 779984
Photograph © John Witthaus
Unfortunately, being a light day for the MA&N, meant a less productive day, but it was still fun!
I'm not the best videographer, but I think they turned out ok for iPhone grabs!
DAYS 7/8, 08/05-08/06:
After finishing early afternoon in Utica, I headed South to ALCO Mecca; Scranton, PA.
The whole trip had been headed in this direction, since the Delaware Lackawanna is the premiere ALCO attraction now. I arrived late afternoon/evening, scoped out the Steamtown area, and found all the ALCO power tied down for the day. I decided to call it an early night and headed for the hotel.
The next morning, armed with tips from a new friend on the DL, and everyone else's advice to be at Bridge 60 at 8am, I arrived in time to watch them fire up PO74's power for the day, and start putting it together.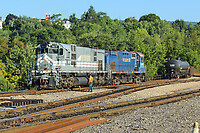 PhotoID: 780003
Photograph © John Witthaus
From there, the crew would grab a cut of cars, and head towards Ridge Row, where they would build the rest of their train. It's a hell of a thing to hear 4 big ALCO's start tonnage on a grade, let me tell ya.
PhotoID: 780043
Photograph © John Witthaus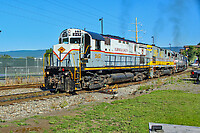 PhotoID: 780057
Photograph © John Witthaus
Then, the crew of LL1 (the local job), found out they had around 50 or 60 grain loads to bring back from NS Taylor yard (around 7000 tons), and their RS-11 and RS-32, simply didn't have enough horsepower for that move. It was then decided that LL1 would shove PO74 up the hill, and then steal two of its units at Tobyhanna. The crew of LL1 proceeded to tie onto the rear of PO74 at Ridge Row.
PhotoID: 780059
Photograph © John Witthaus
From Scranton, there aren't a whole lot of photo spots between there and Moscow, PA, at least not without some difficulty in getting there, and then hindering your chase. Moscow, however, is a pretty nice spot, and I was able to get ahead of the train for my shot.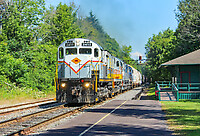 PhotoID: 780060
Photograph © John Witthaus
LL1 was still shoving hard on the rear at this point, and I wasn't sure if I should try Gouldsboro, or go to Tobyhanna. In the end I went with the safer option of Tobyhanna, and after about a 20 minute wait, PO74 arrived to set out their head 2 units for LL1, who had cut off on the fly a few miles back.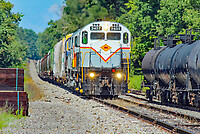 PhotoID: 780065
Photograph © John Witthaus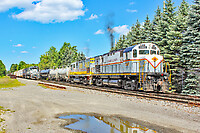 PhotoID: 780081
Photograph © John Witthaus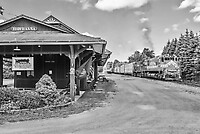 PhotoID: 780179
Photograph © John Witthaus
Not knowing roads and photo locations very well, I opted to head straight to Cresco, where they would be servicing Bestway Lumber, and then heading back West.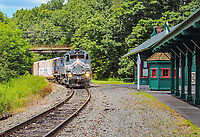 PhotoID: 780183
Photograph © John Witthaus
Then, I decided to head West right away to try and find another shot. I ended up at Devils Hole, which turned out to be one of my favorite shots that day.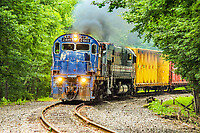 PhotoID: 780240
Photograph © John Witthaus
I continued on to Mt. Pocono, that I had bypassed earlier in the day and snapped a few more shots, before and after they lifted mty cars from Ardent Mills.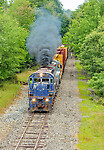 PhotoID: 780241
Photograph © John Witthaus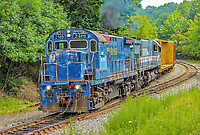 PhotoID: 780252
Photograph © John Witthaus
Back to Tobyhanna it was, and (now) PO75 cut off their train East of town and went in the switch Keystone Propane. This is normally an Eastbound move, but someone at the DL had forgotten to update the crew's work order that they needed a pull/spot, so when they were notified later in the day, they did the move Westbound.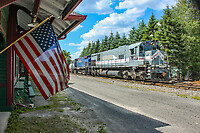 PhotoID: 780257
Photograph © John Witthaus
Soon after, they grabbed the rest of their train and departed.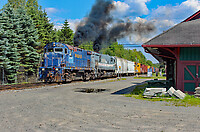 PhotoID: 780259
Photograph © John Witthaus
Before they left, the conductor gave me a heads up on a possible w/b shot at Gouldsboro. Super awesome guys at the DL. Now with mtys though, track speed wasn't a problem, and I only narrowly beat them to the spot. A more "across the water" shot is possible, but it was either this or nothing, I thought it turned out well, despite being hosed by the clouds again.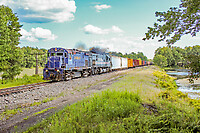 PhotoID: 780289
Photograph © John Witthaus
I beat them again to Moscow, but the w/b shot there isn't too remarkable. So I didn't bother uploading it. I headed back into Scranton towards the University for a shot underneath the signal bridge. The crew had dropped the train East of town, and headed back lite power towards Bridge 60.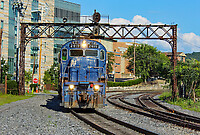 PhotoID: 780356
Photograph © John Witthaus
After the crew tied up for the day, we (the crew and I) decided to grab a bite to eat at 3 Jacks Burger Bar. I absolutely recommend this restaurant, it's more of a dive bar really, but the food is fantastic! We bullshitted and complained for an hour or two (as railroaders will lol) and then I headed back to the hotel.
The next day (with a different crew) was a little more subdued. The only job on was DL3, and they would be hanging around Scranton doing some switching and transfer work. The first task of the morning was to split the smaller local power from the road units, since they wouldn't be used that day.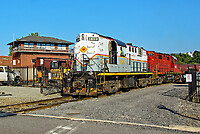 PhotoID: 780385
Photograph © John Witthaus
Then the DL3 crew grabbed the road power and picked up a cut of grain loads to put away East of town. This provided me with the opportunity to get the Scranton shot I had wanted with the DL&W passenger depot and signals.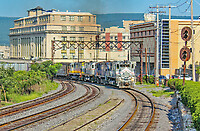 PhotoID: 780360
Photograph © John Witthaus
I had met up with a few guys from the upper Northeast that morning, and we somewhat pooled our efforts since we were all mostly unfamiliar with the area. Turns out, we were all too smart for our own good lol. Between their scanner, my 30 watt mobile radio, 4 sets of ears, and my railroad experience, DL3 slipped by us all, no one the wiser, and headed to NS Taylor yard lite power to interchange.
We were all pretty embarrassed by this and by the time we figured it out, we decided to just go to Steamtown and wait for the crew to come back. After about a half hour, they returned from Taylor with grain loads in tow. A little back and forth at Bridge 60 to switch out the cut, and the crew tied down the whole thing for the next days crew.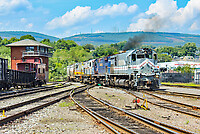 PhotoID: 780397
Photograph © John Witthaus
Now finished with the road power, DL3 hopped on the local power left on the Carbondale line earlier in the day, and headed to the new Von Storch shops.
PhotoID: 780445
Photograph © John Witthaus
Once down to the shops, DL3 had some power hostling to do before they could tie up.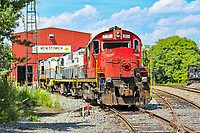 PhotoID: 780470
Photograph © John Witthaus
And that was pretty much it for the DL, DL3 cabbed back to Bridge 60 and tied up. I grabbed some parting shots at Von Storch, and headed for the hotel. I had a drive to Myrtle Beach in the morning.
PhotoID: 780586
Photograph © John Witthaus
PhotoID: 780608
Photograph © John Witthaus
The DL was a pretty awesome experience, and I made a few new friends too.
The video covering both days:
DAY 9, 08/20:
After getting back from the vacation portion of my time off, we spent a few more days with family, and headed back home to Minnesota.
I had told my wife that I wanted to make a quick stop in Burlington, IA, since it was barely a detour from our normal route. She agreed and the quest for the C415 began!
Upon arriving at the Burlington Junction Railway's small yard area, I found the crew on lunch. I snapped a few shots, and soon the crew came out and got to work pulling and spotting the lumber transload there.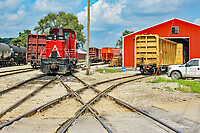 PhotoID: 780627
Photograph © John Witthaus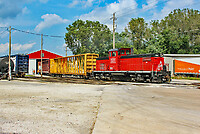 PhotoID: 780652
Photograph © John Witthaus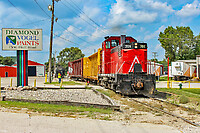 PhotoID: 780812
Photograph © John Witthaus
They then headed to downtown Burlington to get a cut of potash cars for the barge terminal. The BJRY only operates about 3 miles of track in Burlington, so it isn't a hard chase, but unfortunately, that means photo opportunities are limited as well. There are a few neat shots to be had though.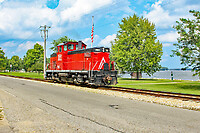 PhotoID: 780814
Photograph © John Witthaus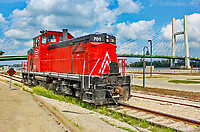 PhotoID: 780820
Photograph © John Witthaus
PhotoID: 780832
Photograph © John Witthaus
The wife, daughter, and I went to grab some lunch while the crew disappeared into the small BNSF yard. When we came back, they had already returned to their own yard, and had an outbound cut ready to go to the interchange. Being they don't operate much track, the end up making this move several times a day, because it's close enough, and they also don't really have much capacity in their own small yard area.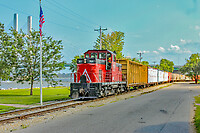 PhotoID: 780869
Photograph © John Witthaus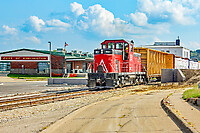 PhotoID: 780874
Photograph © John Witthaus
Then it was lite power back to their facility, there was some more potash to be spotted. The wife had enough at this point, and said it was time to go lol, so I grabbed a parting shot, and we departed for home, ending the ALCO Safari.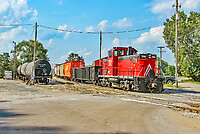 PhotoID: 781037
Photograph © John Witthaus
Here is the video of the spunky 8-251F powered C415, puttering around Burlington:
This was an awesome experience, and I'm glad I took the opportunity and did the trip. I hope y'all enjoyed the photos and video! Until next time...