With the help of these forums I first uploaded this picture about a year ago. At that time one comment was about it not having a lot of depth. I tried unsuccessfully to redo it with more contrast.
Shutterbug
recently had an article on b&w plugins, so I just downloaded a trial version of Nik Silver Efex. Here is the resulting re-upload.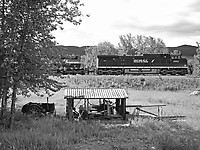 PhotoID: 229494
Photograph © Jim Dorst
Nik is too pricey for my budget, but an interesting plugin.
Anyone else use conversion plugins?